10 Dog-Friendly Restaurants around Phoenix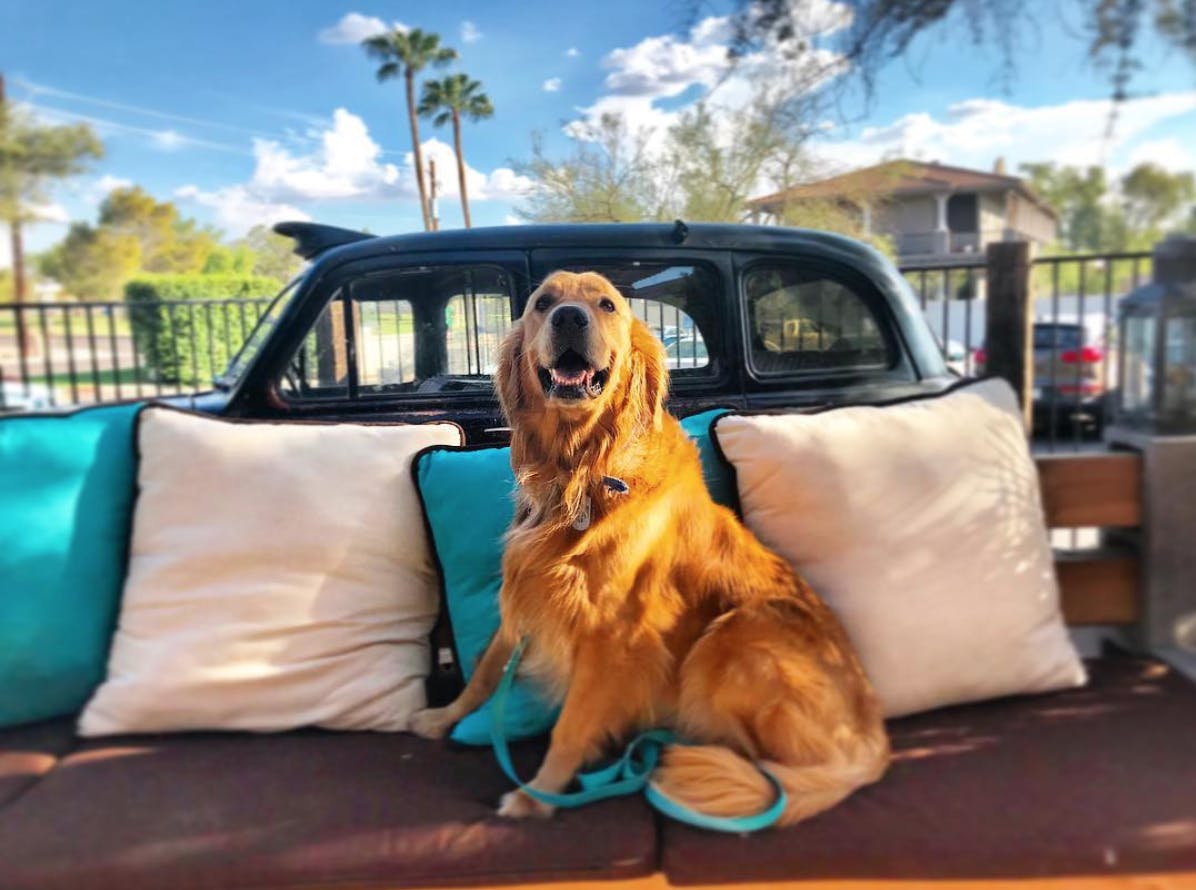 Are you hankering for a bite to eat or just looking to get out of the house but don't want to leave your little one (or not so little) behind? We've compiled a list of some of the dog-friendly restaurants and eateries in and around the Phoenix area. Not all the restaurants in the Phoenix area are listed here, so if you're wondering about your favorite spot, just call ahead and ask!

1. O.H.S.O. Eatery + Nanobrewery
OHSO allows dogs at all four of their multiple locations but the standout is their Paradise Valley location that features a "Barking Bar." This outdoor patio features a water fountain for furry friends to cool off in and even serves up dog treats along with your meal! So, while you grab a burger and a beer your dog can grab a bite to eat too.

2. Postino Wine Café
Postino has tons of locations all over the valley and they allow dogs outside on their outdoor patios at all of them! If you're looking for a cool spot to grab some bruschetta or a glass of wine with friends (including the ones that walk on all fours), Postino Wine Café is your place to go. You'll find more than enough shade and seating on the patios for everyone you bring along.

3. Fate Brewing Company
Formerly know as McFate Brewing Company, formerly known as Fate Brewing Company, is a local brewery in Scottsdale that has outdoor seating for all kinds of customers. With turf outside with picnic tables its comfortable for little ones to hunker down while you grab a meal, a drink, or both! Come grab a tasty beer brewed right here in the Phoenix area and don't forget to bring Fido too.

4. Duck and Decanter Camelback
Duck and Decanter has been serving up gourmet bites for over 40 years and they don't just leave a spot at the table for you, but for your dog as well. Their restaurant has a dog-friendly patio so while you dive into one of their delicious sandwiches your dog can hunker down with you.

5. Fez
If you're looking for a fun spot for happy hour and want to bring your canine friend, Fez on Central might be the place for you. With an outdoor patio for dogs and numerous drink options for you during happy hour, Fez is hard to beat! *One note is that dogs must be less than 40 lbs at Fez*

6. Scramble
Scramble is a breakfast restaurant that has four locations around the metro area. With dog-friendly patios at all the locations, your little friend can join you for breakfast! Their patios have misters keep you both cool and can bring water in a dish to your table for your pet.

7. Snooze an AM Eatery
Looking for more options for breakfast? Look no further than Snooze! With a wide array of anything you could want for breakfast and featuring outdoor seating for you and your canine companion, Snooze is a sure place to stop in the morning.

8. 32 Shea
This Phoenix café does it all! From coffee in the morning to cocktails and craft beer in the evenings. They even feature a "12 Hour Happy Hour" for patrons to enjoy while your dog can enjoy their "Yappy Hour." With a shaded outdoor patio and a hydration hydrant for thirsty pooches, 32 Shea is a great spot for dog-lovers.

9. Joe's Real BBQ
This iconic barbeque spot in the Heritage district of downtown Gilbert invites you in as well your four-legged friends. If Award-winning Texas-style barbeque wasn't enough for you to give Joe's a try, then let this be another reason to check it out. Their back patio is dog-friendly and has yard games for customers to play!

10. The Original Aunt Chilada's at Squaw Peak
We hate to say that Aunt Chilada's is the number 1 restaurant to frequent with your dog, but we sure do think so! Our beautiful little home beneath Squaw Peak features a large front patio that is fully dog-friendly. With tons of shade, you never have to worry about your friend getting too hot under the Arizona sun. You can ask your server for a water dish and we have dog-friendly menu options so they can grab a bite while you do! So, while you dive into one of our famous enchiladas your dog can have some spice free chicken as a treat. Stop in today and see why Arizonans have loved coming to Aunt Chilada's for over 100 years!

Check back for more fun-filled Aunt Chilada's updates and follow us on social media!